Was zeichnet den Alltag des Berufskraftfahrers aus?
Das ist die zentrale Frage, der die Auszubildenden zum Berufs-kraftfahrer im Rahmen des ca. 10-stündigen Unterrichtsprojektes My Job nachgehen.
Ausgangspunkt stellt der Nachwuchsmangel in der Branche dar, den die Schüler zum Anlass nehmen, um ein englischsprachiges Job Profile zu erstellen, das Einblicke in den Berufsalltag bietet sowie Vor- und Nachteile des Berufs aufzeigt.
Auf diese anspruchsvolle Aufgabe bereiten sich die Schüler zusammen mit ihrer Fachenglischlehrerin Frau Sulej entsprechend vor. Hilfreich sind dabei Vokabel- und Grammatikübungen sowie fachspezifische Texte. So bekommen auch die sprachlich schwächeren Schüler die Möglichkeit, Ihre Vorkenntnisse aufzufrischen oder zu erweitern.
Schwerpunkt der Arbeit stellt dann das Verfassen der individuellen Profile am Computer dar. Frau Sulej unterstützt dabei individuell. Ein selbst geschossenes Foto rundet das Job Profile ab.
Abschließend werden die Job Profiles im Klassenverband vorgestellt und es wird demokratisch abgestimmt, welches das Beste ist.
Ergebnisse dieser äußerst produktiven Arbeit werden im Folgenden jährlich vorgestellt.
Ein besonderer Dank ist hier an die Schüler auszusprechen, die sich bereit erklärt haben, dass ihr Job Profile (und ggf. ihr persönliches Foto) veröffentlicht werden dürfen.
The Latest Job Profiles (2022/23)
Job Profile Trinks GmbH, by Marco Göttsche
Professional drivers are the kings of the roads, the job is very interesting and there are many different tasks.
Hi, I am Marco, 24 years old and in the second year of training at Trinks GmbH, we are the second largest company in beverage logistics, with 16 subsidiaries throughout Germany.

My day starts relatively early and depends on whether we were able to preload the day before.
Usually it is only 2 o'clock in the morning, not exactly the best time to get up but you have more out of the day.
Between 3:30 a.m. and 4 a.m. it usually starts, we have a cup of coffee, talk to colleagues and then go to our truck.
Then it's different, either we have to load up to 36 pallets in the morning or we were able to load the day before.
If we were able to load the day before, we only start in the morning at 5 o'clock.
When we are at the customer, we unload the full pallets and load up the empty pallets, the empty goods are counted and transferred to the papers.
We load und unload either with an e – lift truck or with a forklift.
Most of the time we also talk a lot with our customers, because of the almost daily contact between our drivers and the customers, the relationship is mostly warm and funny.
In the end, it is an exciting profession, if you like to be on the road and don`t always want someone on your back, you are much freer as a professional driver than in other professions.
The job of a professional driver is a profession with a secure future, in this industry there is always work.
The road is your passion ? Apply Now !
My job as a truck driver, by Onur

The job as a truck driver is full of advantages and also disadvantages. You have to drive a lot as a truck driver and you have a lot of clients in one day.
I would like to talk about the disadvantages first. The job starts very early, so you have to wake up at five o'clock. A problem is, that you get stuck in traffic a lot. Sometimes you lose a lot of time only for waiting. If you can't deliver the goods in time the clients sometimes don't wait. In this situation you have to bring the goods back to the company and you have to try to deliver it again. In my opinion the job is also low paid, it's not easy to drive so much.
Now I want to tell you something about the advantages. One of the advantage is that the driver can have the break differently and on his own. Another advantage is that the driver has a lot of contact with different people and you see different cities and places. The driver comes home every evening and doesn't have to sleep in the truck or in a hostel.
All in all the job as a trucker is not for everyone. There are a lot of positive things about this job and also some negative things. I really like the job as a truck driver and would also recommend it. As a truck driver has to like to start the day very early, to drive a lot and to meet new people.
My apprenticeship as a professional driver; passenger transport, by Niclas Zuhmann

Hello and welcome to my job profile. Today I will tell you something about my apprenticeship, but for now I will start with introducing myself.
My name is Niclas Zuhmann but you can call me Nic. I am 23 years old and started my apprenticeship in May 2022. As you can see I am not as long in this class as other mates. This is because I wanted to start something new in my life.
Before the change I have done my apprenticeship as a Zookeeper and worked a year in this profession. The change came with the pandemic that hit this business sector in 2021/2022. I lost my workplace in the end of 2021 and then it was clear to me that I have to start something new in my life.
I believe that I found the right profession that I want to do the rest of my life. My employer is Globetrotter travel and tourism. It belongs to the Neubauer group that includes 4 whole companies. There is Neubauer travel, Vagabund, Globetrotter and Ski tours.
Globetrotter is the oldest company in the group but the newest in the alliance.
Now I start with telling you something about the work as a professional driver in the aspect of a bus driver.
As you can imagine a bus driver is a whole lot different than a trucker.
Of course the road belongs to both of them but the payload is much more valuable than food, a plane or some electric parts for the industry. I think we both know that they can move a few million euros in worth of payload but human lives cannot be valued. This is the most important thing that you have to think over and over again when you drive a bus with up to 100 people in the occasional traffic and up to 250 people in local transport.
I think the most negative part of driving in occasional traffic is getting up at different daytimes and working long shifts. Not long ago my day started at 4 a.m. and ended at 11 p.m..
In the beginning of the day I just take a shower and get myself ready.
As a bus driver you have to dress yourself quite well. I often wear a nice shirt with a necktie. Good jeans and a nice pair of shoes. I put a little bit of gel in my hair, shave my beard every day, put on a nice perfume and wear my best watch. A watch is also very important because you have to look at the time the whole day. It´s not a good idea to look it up on your smartphone because you've got a few people in the backseats that don't want to see something like that.
After I finish myself I get to the bus at the bus depot. The first thing I have to do is a pre-departure check. After this is done I check up the tour I have to drive. I check which route I drive, where I take a stop to send all my travellers to the toilet, where I stop to cook and so on. It's very stressful to do that because it depends on the road conditions and it changes every few minutes.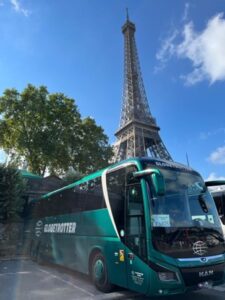 I also have to check what I can and cannot do in other countries. It's quite common in occasional traffic to drive to other countries. In my case I travel to countries like Italy, Greece, France, Great Britain, Sweden, Norway, Denmark, Finland, and Spain. That are just a few countries we drive to. The whole day I have to concentrate myself on the road, the guests and everything else to end the tour successfully.
In the occasional traffic it is normal to cook coffee for the travellers, warm up something to eat (sausage, rice pudding), help the travellers to get in and out of the bus, carry the luggage of the guests…. you see it's a very huge aspect to do good and the right service to be a good bus driver.
A very big advantage I have got instead of a normal trucker is that I've good a few "goodies". My employer takes care of something like free meals and hotel rooms, so I don't have to sleep in the bus or cook my own meals.
It is a very big time saver and quite nice because you know that you have a nice warm bed and a good supper after a 10 hour drive.
After every tour I drive back to our bus court. If you think this is the end I have to disappoint you. Now there is a part not every bus driver likes but is very important. Every traveller wants a clean seat, toilet and a good view out of the window. This means cleaning time!
The first thing I do is cleaning the passenger windows, my windscreen, put up the leg rests and put every seat in the neutral position. I tie together the curtains, close the air-conditioning vents and empty the seat-nets.
Now I can look up the toilet. For this I park the bus over a special drain for the dirty water. In the cockpit there is a button that opens a drain pipe. It smells very bad because in the water are a few things that don't smell nice. It is one of the parts of cleaning the bus that scares many people. It is actually not that bad as you think. You just press a button, take a flush or two, open the drain again and that was it. After that I fill up the water tanks. One for drinking and one for the toilet. After that I clean the coffee machine and start to vacuum.
After a nice car wash I just do the last part. Now I just fill up the diesel and park the bus in a big hall.
Now I can relax. I end my day with complete my driving-commission. I just have to fill a list with the passenger count, timestamps and the driven kilometres.
This was my little insight in my job. I think it is a very nice profession to do. Maybe there are a few people that want to do the same I want to do. Just do an apprenticeship. WE WANT YOU!
My day as a profesional driver trainee, by Darlyn

Hello, my name is Darlyn and I am 18 years old. I work at Stadtreinigung Hamburg and I am in the second year of my apprenticeship.
My company is responsible for cleaning Hamburg. We drive the big garbage trucks, the big and small sweepers and also big container trucks that every Hamburgian knows. My company is also responsible for incinerating the waste. After the garbage trucks have made their tour, they drive to the incineration plant, where the garbage is burned.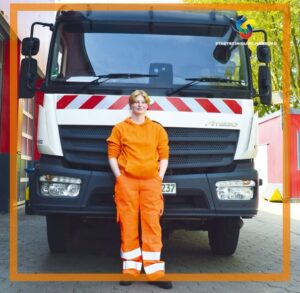 But how looks my typical day? Let me tell you.
I work from Monday to Friday and every day I wake up at 4 a.m. and take the train around ten to six a.m.. I am in the company at about half past six and then I go into the changing room to get changed. When I am finished, I go to the workshop and meet my colleagues there. When we're all done drinking coffee, we start to work at 7 a.m.. We get orders stating what needs to be repaired on which vehicles. I work at the workshop which is responsible for the sweepers and the sprinters and that's why my day always looks very similar. I always work with two colleagues at the sprinters and most of the time we have to do maintenance. So I first look at the vehicle and see if it has any visible damage. If I find something, I have to write it down and give it to our workshop foreman so that he can order the missing parts. Visible damage is often broken door seals, broken backlight lenses or damage to the tire. We work through the list and do a test drive to see if everything is ok. If everything is good, we return the car and then we start the next job. We work until someone shouts the word "break", then we leave everything and all sit down in our break corner. We have an official 45-minute break per day and a short coffee break between the two breaks. We don't always have much to do and then the day can get really boring. When there is not much to do, we start cleaning our workshop, sweeping the floors, scrubbing the lifting platforms and picking up rags that are lying around the workshop. I get off at work at half past 2 p.m. and I am at home at quarter past 3 p.m.
I like my job and I appreciate the helpfulness of my colleagues. I also find the working hours good, because I still have time in the afternoon to do private things. Of course, there is also something that I don't really like and that is the lack of variety in the workshop. I always do the same things and my day doesn't often differ from the day before. There are days when I am motivated and enjoy going to work, but these days are becoming fewer and fewer.
All in all, I'm very happy to be able to do my dream job at Stadtreinigung Hamburg and I'm excited to see what else is in store for me.
And two more Job Profiles: